One of the best new bar gifts to hit the scene this year are the incredibly cool Natural Stone Beverage Dispensers that are handcrafted in New Hampshire. People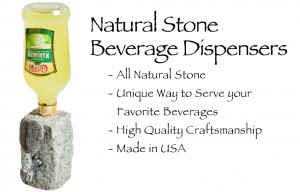 love them because they're truly a funky way to house your favorite booze for dispensing at parties. They're sturdy, hefty, and add an all-natural aesthetic to the bar area.
To get the most out of your stone dispenser, be sure to follow these tips:
1) Always flush the dispenser with fresh water before use, especially if it's been a while since your last party. This helps clear out any dust – definitely not something you want to land in your wine.
2) When attaching a bottle, always place the rock dispenser upside down on the bottle. Turn over the bottle and dispenser together as one and enjoy!
3) Avoid using carbonated beverages. Although the result of turning a carbonated beverage upside down is always fun, it's also quite messy!
4) Be sure to select a rock dispenser with a stainless steel valve. Other valves have been known to cause leakage.
5) Stick to regular size wine and liquor bottle and don't keep the bottle in place for long-term storage. Natural stone can be porous and while most dispensers are tested for leakage beforehand, keeping the liquid in place for long periods of time can lead to the stone sweating liquid.
6) Be sure to add a granite riser for a nice, raised appearance on your bar.
You can find both the Granite Cobblestone or Natural Stone Drink Dispenser with stainless steel valve and pre-tested for leakage right here. Right now they are still being offered with free shipping, too. Rock on!
Karen