Custom Cordage "The Right Mat" Lobster Rope Doormats: Find Online Now
Buy The Right Mat by Custom Cordage and Save 20% Online Now! (offer expires 5/15/2012)
We first came across The Right Mat over 3 years ago and instantly fell in love with this eco-friendly, colorful Lobster Rope Doormat. Made by Custom Cordage in Waldoboro, Maine each doormat is handwoven from recycled Maine float-rope once used by Maine lobstermen. Instead of sending this wonderful rope to landfills, the owner of Custom Cordage, David Bird, came up with the clever idea to weave them into durable doormats.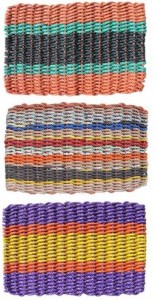 We've known David Bird for years now and are thrilled his innovative idea has become so popular. And, as the first to sell the Lobster Rope Doormats online we've shipped colorful float-rope to all corners of the nation.
Now, here's our latest picks for top The Right Mat doormat colors:
1) The Colors of Maine  (funky multi-colored ropes woven based upon what's available at the time)
2) Purple, Orange, Yellow -(so vibrant – it just pops off your doorstep!)
3) Seafoam, Yellow, Black (this handsome doormat is a bit more conservative with just there right amount of yellow splash)
4) Seafoam & Orange (maybe you caught this one running in a major TV spot for any insurance company…?)
5) Orange, Green, Black (very pleasing 3-stripe color combination)
Check out all the colors and sizes of Lobster Rope Doormats online now. And, if you're ever near Waldoboro Maine, please stop by Custom Cordage and tell David Bird we said hello!