Handmade Leather Journals are a Perfect Gift for Men!
We all know them. The guys that go mute when it comes to gift-giving. Try as you might to get them to spill the beans, they'll never tell you what they really want. My dad is one of those guys. Everytime us kids asked him what he wanted for Father's Day or Christmas he'd just say "P & Q". Ugh! Thank goodness for Aqua Velva.
This year, when it comes to gift-giving for men I'm going to boycott the department store displays that present everything from a radio-controlled nose hair trimmer to an inflatable desk set with built-in golf course. I'm not going to browse the bookstore looking for the last best seller, knowing he's probably already downloaded it onto his Kindle. And, I am definitely not going with socks (although my husband REALLY needs them).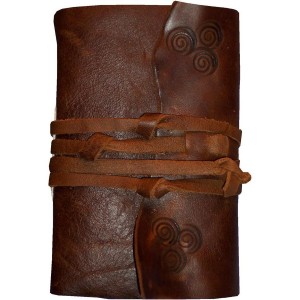 This year all the men in my life are getting a handmade rustic leather journal. It works well for those who like to journal regularly, it's a wonderful "idea book" for any businessman, and it's a great way for my dad to jot down notes and measurements on his current workshop project. It's just cool. From capturing trip memories and notes (my parents like to get in the car and drive for days without any real plan), to simply logging the important memories of the day. This is a gift I know they'll like but would probably never splurge on for themselves!
The Torbat Leather Journal sort of reminds me of something an early explorer might have had in his pack… rustic brown leather filled with heavy-stock ivory vellum pages that are actually hand-torn for an aged look. A leather wraparound strap secures the journal on the outside. It's very Indiana Jones-ish, I must say!
The Trees Leather Journal is made from a soft medium brown leather with a hand-stamped image of a forest on the cover. It, too, has the unique hand-torn pages.
Both make great gifts for Dad, Hubby, Bro… and especially Gramps. And, if it turns out they really DID want the radio-controlled nose butler, then The New England Trading Company has a great return policy (although we've never received a journal back to date!).