Our New Fave: Sea Stones "Sticks & Stones" Granite Swizzle Sticks
The Granite Drink Chiller phenomenon continues! Sea Stones latest offering in the "cool way to cool your drink" category are these funky swizzle sticks that have 2 granite stones attached to them. You pop them in the freezer for bit and when they're nice and cold use them to mix and chill your drink. Really, what a fun way to serve Long Island ice teas, Highballs, or even sparkling water to your guests. They're certainly a unique conversation piece.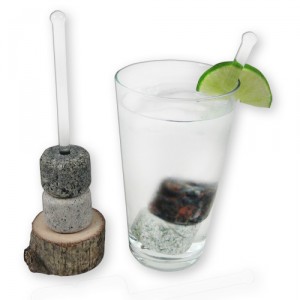 I'm actually planning to use the set of 2 swizzle sticks as a hostess gift this year. Made from New Hampshire granite, they arrive with a free glass, a free wood stand (it's a sturdy way of storing them in your bar or freezer), and a free gift box. So, basically, just add the gift wrap and you're done!
You can find the Sticks & Stones Granite Swizzle Sticks at The New England Trading Company this holiday season. Available individually and in sets of 2.