The Compass Rose Copper Table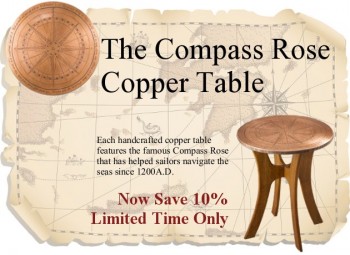 We just love this Compass Rose Copper Table. It works both as a distinctive side table or as a spotlight piece between two cozy armchairs in your living room. Just gazing at the compass rose etched into the copper table top makes you imagine long voyages at sea, spices and other goods being sold and traded, salty wind and water rising up quickly during an unexpected squall, the challenges faced by brave sailors over the course of hundreds and hundreds of years… and all the mysteries that lay below the ocean surface.
This impressive 18″ diameter copper table is handcrafted right here on the New England seacoast and sits atop of solid mahogany base. It includes the famouse Oliver W. Holmes quote "The great thing in this world is not so much where we stand, as in what direction we are moving…We must sail sometimes with the wind, and sometimes against it. But we must sail, and not drift, nor lie at anchor."
Rarely is this copper top table on sale… but for now it is being offered for 10% off. Offer subject to change anytime… now's the time to order your table and save over $75.